What does anyone make of this LP & its story on Ebay – not something I was aware existed. The image (which isn't brilliant) does seem to only show 5 songs instead of the 6 on Side A.
It could simply be a misspress of course but its interesting, I wonder where it came from?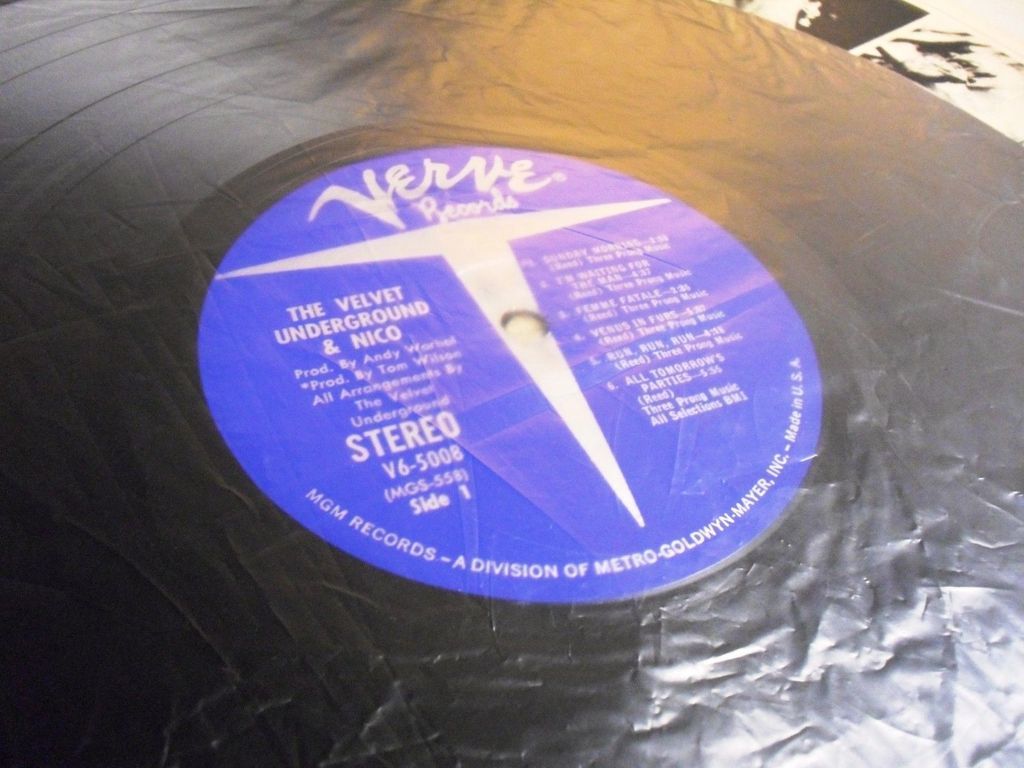 Matrix / Runout (Side A): V6-5008 SIDE 1 MGS-558  --> (the G is crossed out)
Matrix / Runout (Side B): V6-5008 SIDE 2 MGS-559
This is the first pressing of late 1966 that does not include the track "Sunday Morning", which was originally not intended for release. "Sunday Morning" would later appear as a single in December of 1966 to promote the release of the album in March of the following year. Aiming to create a hit for the album, the song was added at the last minute for commercial release. Prominent use of celesta was the idea of John Cale, who noticed the instrument in the studio and impulsively decided to use it for the song.
The band had been active since 1964 as a part of Andy Warhol's "Exploding Plastic Inevitable". Coinciding with most United States albums of the time, the original album concept was to have 10 tracks in total, 5 on Side A and 5 on Side B. As you may know, the famous Sceptor Studio recordings by the band in April 1966 consisted of only 10 songs. These are the tracks found on this release - a pressing made prior the to addition of "Sunday Morning".
Although these 10 tracks are present, they are of a different mix to the commercial release. Played back to back with a regular copy there are subtle differences in the levels of instruments for some tracks. This pressing was also produced by Andy Warhol exclusively, whereas the commercial release was not just his input. The label on the record incorrectly credits Tom Wilson with "Sunday Morning" and it's production, but the track does not actually appear. "Heroin, Venus In Furs, I'm Waiting For The Man and European Son" were re-recorded in LA by Tom Wilson. The mix may be slightly different on this release, but the recordings are those used on the commercial release.
The "G" in "MGS" is crossed out on Side 1 to denote that the track listing for Side 1 was to be amended.
This album was bought from a deceased estate in the U.S.A. in 2014 and I have not seen another. The estate included other rarities such as the yellow label promo copy of "Nico - Chelsea Girl". The purchase of this item will include a signed statement from a well-known and respected record store owner from Queensland, Australia, providing authentication to this piece.
http://www.ebay.co.uk/itm/172499904388? ... EBIDX%3AIT