There looks like lots of new dates according to this promo Lou Reed live LP - the dates are for April / May 1975.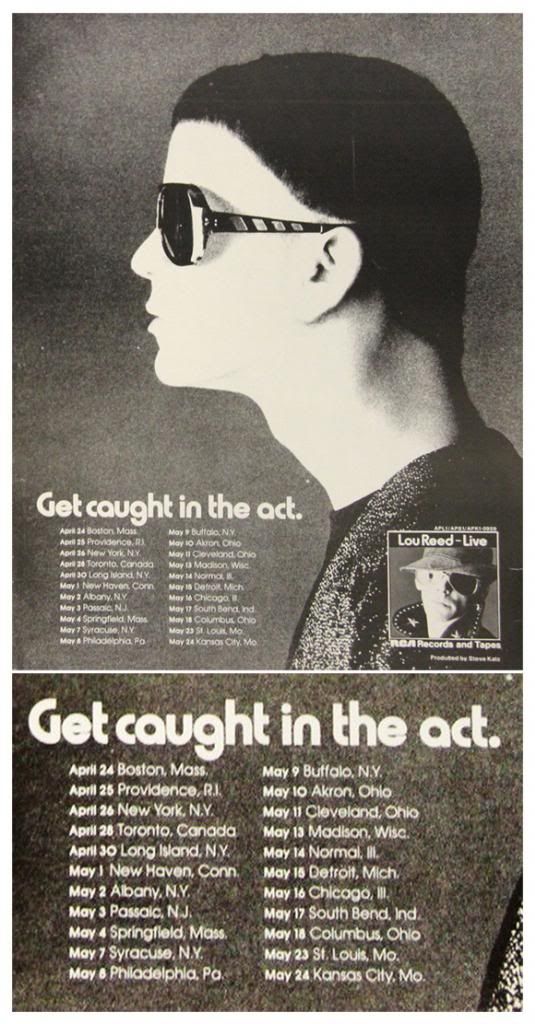 So new info or dates in red, assuming Lou was fit/well/not too drunk etc to play..
Lou was a busy boy!
April 24th Boston, Mass
(Live & Alive says Palace Concerts, Providence)
April 25th Providence, R.I.
April 26th New York
April 28th Toronto, Canada
April 29th Poss 2nd night in Toronto ? or 1 gig on 28 or 29th
April 30 Long Island, NY
May 1st New Haven, Conn
May 2nd Albany, NY
May 3rd Passaic, NY
May 4th Springfield, Mass
May 7th Springfield, Mass
May 8th Philadelphia, Pa
May 9th Buffalo, NY
May 10th Akron, Ohio
May 11th Cleveland, Ohio
May 13th Madison, Wisc
May 14th Normal, Ill
May 15th Detriot, Mich
May 16th Chicago
May 17th South Bend, Ind
May 18th Columbus, Ohio
May 22nd Passaic, NJ
May 23rd St Louis, Ohio
May 23rd St Louis, Mo
May 24th Kansas City, Mo